Pilates Matwork Course
28 January – 7 February 2021
Pilates Beginner and Intermediate Matwork certificate course

30 CPD points (accreditation by Stellenbosch University)

Course Overview
Pre-requisites
The course is aimed at qualified medical, health-care therapists, qualified movement practitioners or students with background in Anatomy / Physiology. Applicants with extensive background in teaching, sport, dance,Cape Town Pilates, Pilates etc. will be considered for participation depending on the type of training.
If you would like to teach Pilates as a part of your practice to your patients or clients, completion of a full programme, including the exams, is strongly recommended.
If you are primarily interested in the CPD points and a general understanding of the Pilates method, certificate of attendance with the CPD points can be issued after the 40 hours of the actual course. Please specify which option you would prefer.
Course Outlines
Pilates principles
Review of the anatomy: Pilates powerhouse, rib cage placement, shoulder girdle, cervical spine, and more
Fascial lines
Postural assessment (most common postural imbalances and how to correct them)
Neutral spine/neutral pelvis
Imprint and when to apply it
Pilates Breathing technique in fine detail  (myths and reality)
Pre-Pilates (Basic preparatory exercises and simple stretches)
Beginner repertoire and its value for pelvic-lumbar and scapular stabilization
Modifications and progressions (how to change exercises for individuals with limited movement, when to omit exercises, how to increase the intensity safely)
Transition from Beginner to Intermediate level
Intermediate repertoire (goals and application)
How to design a balanced Pilates session
Teaching skills
Code of ethics
Practice teaching, theoretical assignments
Date for 2021
Thursday: 28 January: 11am- 5pm
Friday: 29 January: 10am- 5pm
Saturday: 30 January: 9am- 5pm
Sunday: 31 January: 9am- 5pm
Saturday: 6 February: 9am- 5 pm
Sunday: 7 February: 9am- 5pm
Cost:  R11500
Early Bird Special: 
Pay in full by 15 November 2020 and save R2000
Pay in full by 1 December  2020 and save R1500
T&Cs apply.
To qualify for the special offer, full amount must be paid by the advertised due date.
Payment plan is available and must be arranged in advance. There are various options.  A non-refundable and non-transferrable R3500 deposit (which forms a part of the full fee) is required to secure your place in the course.
To ensure individual tuition and proper practical training only a small number of students will be accepted.  Space is limited.
Contact: katya@pilatescapetown.com or 083 235 6238
Practice hours, Exams and Costs
To be eligible to write the Pilates Academy SA exam for this Mat work course you will be required to complete the following instructor training program:
60 hours physical review of exercises (self-practice)
60 hours practice teaching (teaching friends or potential clients free of charge)
10 hours observations (observing classes at recommended studios, free of charge)
10 hours class attendance (physically attending classes) discounted fees apply at Camps Bay studio and with some affiliated instructors in different areas).
On-line options are available
Written email exam (1 hour 30 minutes):   R300, Saturday, 21 August 2021
Practical exam   (1 hour):  R600, by making a private booking before 22 October 2021
(can be done in person or on Zoom)
 The practical exam should take place after the completion of all the required programme hours and no later than 22 October 2021.  Alternatively the participant will have to do the "refresher course" at the next available Pilates Academy SA Matwork course at a reduced fee.
On completion of the Matwork training programme and after successfully passing the exams set by the Academy, instructors will receive the certificate awarded by Pilates Academy SA.  CPD points granted by Stellenbosch University will feature on the Certificate.
Contact: katya@pilatescapetown.com or 083 235 6238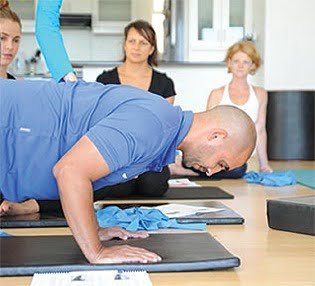 Course Dates
| Dates | Place | Details | Link |
| --- | --- | --- | --- |
| Jan-Feb: 2021 | Cape Town | Beginner & Intermediate Mat Work Certificate Course | More Info |
| Mar: 2020 | Cape Town | Reformer Certificate Course | More Info |
| 11May: 2019 | Cape Town | Pilates Accessories Course (small ball, stretch band and roller) | More Info |
| 18 May: 2019 | Cape Town | Pilates with Rotation for Scoliosis and Sport | More Info |
  National Pilates Certification Program:
(International Registration)
Pilates Academy SA teacher training courses comply with the standards outlined by the National Pilates Certification Program (NPCP), formerly known as Pilates Method Alliance (PMA®). This is the only worldwide register for comprehensively trained Pilates professionals. For more information please visit www.nationalpilatescertificationprogram.org; www.pilatesmethodalliance .org Although it is optional, with continued Pilates education and working experience, certified instructors may consider writing the NPCP third-party exam. A successful pass in this would enable certified instructors to be registered worldwide. Students and Graduates of the Pilates Academy SA must adhere to the NPCP Code of Ethics.
Testimonials
"I thoroughly enjoyed this course. Katya's instructions and explanations, anatomical knowledge and application of exercises to various body types are excellent. SHe really taught me to look at a client as an individual and really think of the reasons (the "Why") for each exersice as applied to an individual."

Physiotherapist

"I have learned a phenomenal amount. The broken down beginner options for all the exercises are very helpful to be able to build a client up to each exercise. I have been challenged physically myself and now I am able to safely challenge my clients."

Physiotherapist

"I have received really good feedback from clients using Katya's methods and cues etc. Her approach involves observing postural patterns with the intention of correcting the imbalances through the selected exercises. Pilates Academy SA respects Pilates as a rehabilitative tool as opposed to just a class you do at gym."

Biokineticist

"It was a very practical course. All theory was presented in a user-friendly way. The manual was very clear and easy to use. Excellent presentation."

Physiotherapist

"This course felt like a fun educational journey for body and mind. The correct use of muscles for each exercise, local and global anatomy all was explained clearly. Exercises were broken down to help each one of us to really gain connection in the body. Incredibly enjoyable course, fantastic teacher."

Critical care nurse

"Excellent understanding of the needs of our group. Drawing out our strengths, allowing us to grow as individuals. Interesting blending of other complimentary Body Work into the course structure, giving us the real life teaching experience."

Registered naturopath

"The course was much more in depth and intense than I was expecting. Katya demands the highest standard by encouraging debate, discussion, and stimulates the thirst for knowledge by always providing new direction for self-study and self-development. An outstanding course- the best I have attended in my career in the fitness industry".

Personal trainer

"Very clear instructions, brilliant teacher. I have learned so much in just two month and will definitely recommend this course to my colleagues."

Physiotherapist